««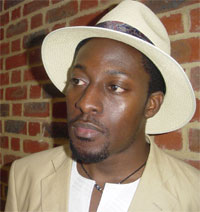 Nii Ayikwei Parkes is a Ghanaian editor, socio-cultural commentator poet and author of the acclaimed hybrid literary novel, Tail of the Blue Bird (Random House), which was shortlisted for the Commonwealth Prize and translated into Dutch and German. A 2007 recipient of Ghana's national ACRAG award for poetry and literary advocacy, he has held visiting positions at the University of Southampton and California State University and delivered lectures and talks on poetry and creative writing at universities internationally. Nii Ayikwei holds an MA in Creative Writing from Birkbeck (University of London) and serves on the boards of the Poetry Book Society, the Arvon Foundation and the Caine Prize. As a poet he has published several pamphlets and his latest books of poetry are the Michael Marks Award-shortlisted pamphlet, Ballast: a remix (2009), described in the Guardian as, "An astonishing, powerful remix of history and language" and The Makings of You (Peepal Tree Press).
Nii Ayikwei's residencies, grants and awards include a 2003 Arts Council England award, a 2003 Victoria & Albert Museum residency, a 2005 BBC Radio 3 residency, a 2009 Booktrust residency, and a 2011 grant from the James Irvine Foundation for a series of talks in California.
As an editor, he formed the London arts organization Tell Tales with Courttia Newland in 2001, combining music and storytelling to provide audiences with interactive short story readings. Tell Tales also produced compelling anthologies of diverse groups of contemporary UK writers and their live formula has been imitated by many organisations since. Nii Ayikwei is also responsible for making flipped eye publishing one of the most respected small presses in the UK, with several authors who have been shortlisted for, and won major awards. Additionally, he worked as a contributing editor to The Liberal, and has had work and opinions published in many newspapers, magazines and journals, including Wasafiri, Poetry News, The New Writer, The Guardian, Poetry Review, Storyteller Magazine, Mechanics Institute Review and Sable.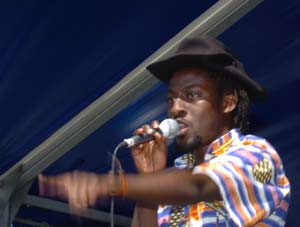 On stage, Nii Ayikwei is known for his versatility and his love for music and jazzy collaborations. He has performed on major stages like The Royal Festival Hall in London, Java in Paris and Paradiso in Amsterdam as well as at festivals such as the 2005 London Jazz Festival. In 2002 he completed a sell-out six-week tour of the United States, and recorded the seminal spoken word CD Incredible Blues, which includes collaborations with cult London folk-soul artist, Randolph Matthews, and classical Indian violinist and Susheela Raman accompanist, Kumar Raghunathan. Nii Ayikwei's song "The Sweetest Minute", sung by Santé, was a finalist in the 2000 Unisong International Songwriting Competition. Incredibly, he turned down a record deal offered by SOLAR records founder Dick Griffey who saw him performing in Ghana in 2001 because he didn't feel he was ready to be a musician rather than a writer.
As a socio-cultural commentator and advocate for African writing, Nii Ayikwei has led forums internationally, sat on discussion panels for BBC Radio with literary heavyweights such as Booker winners, Margaret Atwood and A.S. Byatt, and he runs the African Writers' Evening series at the Southbank Centre, London and programmes the reading series for the Baobab Center in Rochester, New York. He also consults for organisations on cultural policy and programming and is a member of the panel of judges for the 2011/2012 Commonwealth Prize.
Always open to a new challenge, Nii Ayikwei was one of a select few writers asked to design a shoe for Converse as part of Project RED (link to small image of his design: http://ymlp.com/ztteNi ). He is currently completing a book of short stories The City Will Love You for Random House as well as two projects for stage. He lives in Accra and London.