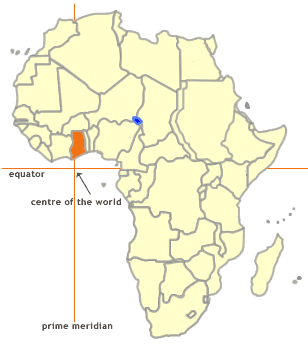 about me

My name is Nii Ayikwei Parkes. I am from Ghana and I write poetry, short stories, articles, songs and, sometimes, rap for all ages. My first name means leader and the end of my second name "kwei" means I am my father's second son.
Ghana, which is marked in orange on the map on the left, is in West Africa and lies on the same longitude (prime meridian) as the UK which is about 74 degrees away from New York in the United States of America and 144 degrees away from Melbourne in Australia. This means that a clock in Ghana will usually tell exactly the same time as a clock in the United Kingdom, but a different time from a clock in Australia or the United States of America. However, Ghana is very different from the United Kingdom in many ways; for example, there are only two seasons - the wet (rainy) season and the dry season (harmattan). Also, we have about 76 languages in Ghana in addition to English, which is the language taught in schools, and two sign languages for the deaf. Most children in Ghana speak at least three languages.
I also write under the pseudonym, K.P. Kojo and I have published a book of Ananse Stories called The Parade under that name.